The
New York Shipbuilding Corporation
(or
New York Ship
for short) was founded in
1899
and opened its first shipyard in
1900
. Located in Camden, New Jersey on the east shore of the Delaware River, New York Ship built more than 500 vessels for the
U.S. Navy
, the
United States Merchant Marine
, the
United States Coast Guard
, and other maritime concerns.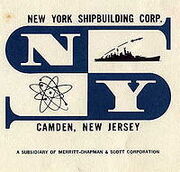 New York Ship's unusual covered ways produced everything from aircraft carriers and battleships to barges and car floats. At its peak during World War II, NYSB was the largest and most productive shipyard in the world. Its best-known vessels include the destroyer USS Reuben James (DD-245), the cruiser USS Indianapolis (CA-35), the aircraft carrier USS Kitty Hawk (CV-63) and the nuclear-powered cargo ship NS Savannah.
During World War I, New York Ship expanded rapidly to fill orders from the U.S. Navy and the Emergency Fleet Corporation.
New York Ship's World War II production included all nine Independence-class light carriers (CVL), built on Cleveland-class light cruiser hulls; the 35,000-ton battleship USS South Dakota (BB-57); and 98 LCTs (Landing Craft Tank), many of which took part in the D-Day landings at Normandy.
After World War II, a much-diminished New York Ship subsisted on a trickle of contracts from the United States Maritime Administration and the U.S. Navy. The yard launched its last naval vessel ordered (USS Camden) in 1967. The former yard's site is now part of the Port of Camden, handling breakbulk cargo.
The last completed submarine to be delivered to the U.S. Navy was USS Guardfish (SSN-612) and was commissioned December 1967.
Submarines built here had the most perfectly round hulls ever produced (Thresher Class) because of the largest steel rollers used in the construction of the pressure hulls using HY-80 steel.
Ad blocker interference detected!
Wikia is a free-to-use site that makes money from advertising. We have a modified experience for viewers using ad blockers

Wikia is not accessible if you've made further modifications. Remove the custom ad blocker rule(s) and the page will load as expected.